My Blog
Posts for: September, 2014
By Catoctin Dental
September 23, 2014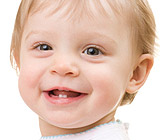 Our "baby" teeth begin appearing around six months of age — by age 10 or 13, they've largely been replaced by our permanent teeth. Though their lifespan is relatively short, baby teeth play an important role in our dental development. In fact, saving a damaged baby tooth is an extremely important treatment goal even though they will be eventually lost.
Baby teeth perform a number of functions as our mouth and facial structure develops during our formative years (infancy to early adulthood). Besides providing a means to chew food, baby teeth aid speech by providing contact points for the tongue while speaking. They help us relate to others socially through smiling and other facial gestures. And, in relation to our long-term development, they serve as both guides and "placeholders" for our permanent teeth until they're ready to erupt.
Thus, a permanent tooth's development could be stymied if its counterpart baby tooth is lost prematurely. It could come in misaligned or not erupt fully if adjacent teeth have drifted into the open space. The resulting malocclusion (bad bite) could require long-term orthodontic treatment with higher costs than treatments to save the baby tooth and avoid the misalignment.
There are various treatments to prevent and save at-risk baby teeth. Even a badly decayed tooth might be saved with a pulpotomy, a similar treatment to a root canal but less invasive. This is often followed with a stainless steel crown to cover the remaining tooth and restore some of its form and function.
If it's not feasible to save a baby tooth, we may recommend installing a space maintainer that prevents other teeth from drifting into the resulting space until the permanent tooth is ready to erupt. This orthodontic appliance usually consists of a metal band cemented to an adjacent tooth with an attached stiff wire loop that extends across the gap and rests against the tooth on the other side. Although effective, space maintainers can break or become dislodged, require extra monitoring and are often cosmetically unappealing.
In any event, the primary goal should be to save a baby tooth, if possible. Doing so will prevent more serious long-term problems for permanent teeth.
If you would like more information on the importance of baby teeth, please contact us or schedule an appointment for a consultation.
By Catoctin Dental
September 08, 2014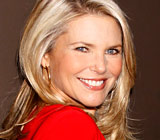 Christie Brinkley's world-famous smile has graced the covers of countless magazines for over 30 years. In fact, in her own words from an interview with Dear Doctor magazine, the supermodel said, "I think my smile was really my passport to success in the modeling industry." And while most of her smile's appeal comes naturally, Christie does give it a boost with good oral hygiene, regular dental checkups and tooth whitening. As Christie says, "When it comes to teeth, keep it as natural as possible. Do not go overboard on whitening. You want your teeth to compliment your face…your friends should not be required to wear sunglasses when you smile!"
Aside from some potential minor side effects such as tooth sensitivity, whitening teeth through bleaching is a relatively inexpensive way to brighten your smile conservatively and successfully. There are three common methods, as described below:
An external or vital approach where "vital" (living) teeth are bleached through direct contact to the tooth's surface.
An internal or non-vital approach where the tooth is whitened from the inside during a root canal treatment.
A combination approach in which both internal and external bleaching techniques are used.
But what causes teeth to become discolored?
Tooth discoloration can be caused by a traumatic blow to your teeth resulting in nerve tissue (pulp) death. However, there can be many other causes: consuming or using products that stain the teeth such as coffee, tea, cola, tobacco products and red wine, to name just a few. Aging is another factor, as it results in changes in the mineral structure of the tooth as the enamel, the outermost layer, loses its beautiful and youthful translucency. Other causes include exposure to high levels of fluoride; tetracycline, an antibiotic, administered during childhood; inherited developmental disorders and jaundice in childhood; and tooth decay.
The good news is that we routinely brighten smiles through tooth whitening. To learn more about brightening your smile, continue reading the Dear Doctor magazine article "Teeth Whitening." Or if you are ready to have your teeth professionally whitened, contact us today to schedule an appointment so that we can conduct a thorough examination and discuss your whitening treatment options. And if you want to read the entire feature article on Christie Brinkley, continue reading "The Secret Behind Christie Brinkley's Supermodel Smile."