My Blog
Posts for: July, 2013
By Catoctin Dental
July 23, 2013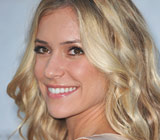 Kristin Cavallari's flawless smile has been featured on TV, film and magazine covers. But the 25-year-old actress and reality-show personality didn't always have a perfect set of teeth. In fact, she told Dear Doctor magazine — where readers recently voted to crown her with the "Smile of the Year" award — that her dental treatments began the same way many do: with orthodontics in sixth grade.
"I had the 'spaghetti catcher,' which is what everyone used to call it," she reminisced. But by that, she didn't mean a strainer — she's talking about what dentists call a "palatal expander."
In case you're not familiar with this orthodontic device, a palatal expander takes advantage of the natural growth patterns of a child's upper jaw to create additional space for the top set of teeth. How does it work? Basically, it's similar to braces: By applying gentle pressure, the appliance creates changes in the jaw. Unlike braces, however, it's invisible — it fits between the upper teeth, close to the roof of the mouth.
During the three to six months a child wears the palatal expander, it pushes the left and right halves of the upper jawbone apart, and then maintains and stabilizes the new, wider spacing. Since the palatal bones don't fuse until after puberty, tightening it a little bit each day for the first few weeks provides a quick and painless method of making the upper jaw a bit roomier. And that can be a very good thing. Why?
There are lots of reasons. For one, it can relieve the condition called "crowding," when there is not enough space in the upper jaw to accommodate the proper alignment of the permanent teeth. In the past, teeth often had to be extracted in that situation. It may even allow "impacted" teeth — ones which are blocked from erupting by other teeth — to come in normally.
It can help treat a "crossbite," when the back top teeth come down to bite inside (instead of outside) the lower back teeth. It also generally shortens the total time a child needs for orthodontic treatment. That's good news for any teenager — even if their own day-to-day "reality show" isn't featured on TV!
If you would like more information about palatal expanders, please contact us or schedule an appointment for a consultation. You can also learn more by reading the Dear Doctor magazine article "Palatal Expanders" and "Early Orthodontic Evaluation."
By Catoctin Dental
July 08, 2013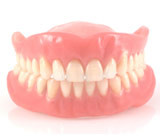 The image of Grandma and Grandpa taking out their dentures every night and placing them in a glass of water by the bed is still a reality for a lot of people.
If you have dentures, you probably know that the conditions in your mouth will or have changed over time, necessitating adjustments. This is because full dentures exert continuous pressure on the gum tissues and underlying bone of your jaw resulting in a slow shrinkage. The gum tissues, and the bone beneath, atrophy or melt away. The result — over time the dentures lose their original tight fit and become loose. This can cause discomfort and embarrassment as the dentures slip and slide around.
Reline (refit) your current dentures. If your dentures are in good condition and are functional, applying a new inner lining to the dentures will restore their former fit. Because the rate of bone loss differs from person to person, some denture wearers may need more frequent relines than others. A temporary reline involves adding a layer of moldable plastic material under the denture while you are in the dentist's chair. The material will harden and fill in spaces where the gums have shrunk away from the denture. For a more permanent relining, the dentures must be sent to a dental lab, which will replace the temporary material with permanent denture material. This can usually be done in one day.
A new set of dentures. If your dentures are worn or you cannot speak, eat, bite or chew properly with them, a new set of dentures may be the answer. The condition of your jaw is another factor. If examination shows that a reline will not achieve the fit and stability you need, then remaking the dentures is another option.
Dental Implants — State-of-the-art tooth replacement systems. Dentures used to be the only solution to the problem of missing teeth, but with today's technology it's amazing what dentists can do. Implants do not only replace teeth but also stabilize the gradual bone loss that takes place when teeth are missing. Choose dental implants to replace at least two of your missing teeth to anchor your dentures and make them more stable.
Have all your missing teeth replaced with dental implants. Dental implants are generally the best option for long-term denture wearers who have endured jawbone loss and can no longer tolerate dentures alone. Bridgework (or dentures) are attached to the implants, stabilizing them and the underlying bone. The new teeth also provide support to the face, lips and cheeks giving a more youthful appearance.
Contact us today to schedule an appointment or to discuss your questions about dentures and other tooth restorations. You can also learn more by reading the Dear Doctor magazine article "Loose Dentures."